Return to Learn Plan
2021-2022

Our goal is to educate every child in the West Liberty Community School District to the best of our ability. Since the beginning of last school year much has changed, and as we continue to monitor local and regional health conditions, we are optimistic that we will have a much more normal 2021-2022 school year.
Per requirements by the department of education, we will update our return to learn plan every six months. Modifications and amendments to our most recent plan will be based on current health trends of the local area, as well as recommendations and requirements received from the Iowa Department of Public Health, the Iowa Department of Education, and the Muscatine Department of Public Health. You will find our most recent plan on the school district website under Parents, under Return to Learn Plan.
The West Liberty Community School District will continue to follow all state and federal laws, including all students to attend school full-time and in-person, unless they choose to use the Edgenuity Online system taught by Edgenuity teachers. Masks will remain optional for students, staff, and visitors in our buildings.
Full time in-person instruction will be provided for all students in grades pre k-12 for the 2021-2022 school year. Online learning will be provided through the Edgenuity learning platform. Dual language participants must be in person as the Edgenuity platform does not provide dual-language services. We will continue to monitor guidance from the Iowa Department of Education, the Iowa Department of Public Health, and the Muscatine County Public Health Department.
West Liberty is part of the Mississippi Bend Area Education Association consortium partnering with Edgenuity to provide an online learning platform to our students. Edgenuity offers classes to students from kindergarten through 12th grade. They hire their own certified teachers to assist students using the online platform. West Liberty will partner with Edgenuity by providing a school district mentor to aid in initial set up and to help with monitoring attendance, and assisting with issues and concerns that may arise throughout the school year. The program is self-paced and allows students to be enrolled in up to six semester long classes at one time.
If choosing to enroll online, students will have 10 days to demonstrate proficiency using the Edgenuity online platform, or they may be required to attend in-person learning. While we believe in-person learning is the best educational model, we do recognize circumstances warrant other educational settings on a case by case basis.
Students enrolled in the Edgenuity online platform will not be able to participate in the dual language program, as Edgenuity doesn't offer dual language services.
Modifications to the Current Plan
The West Liberty Community School District school board, administrative team and directors, along with our school nurses will continually monitor the health concerns based on updates from the various agencies included in our plan. We will notify the school district students, staff and parents/guardians if changes occur.
Illness and Covid related Health Concerns
When to keep your child home from school.
Below are some guidelines to help you decide whether you should send your child to school or not when they are ill. Please keep your child home if your child has:
Fever greater than 100 degrees

Diarrhea

Vomiting

Untreated impetigo or ringworm

Influenza (Flu) or COVID- both are contagious diseases caused by viruses. Symptoms include sudden onset of fever, headache, chills, muscle aches, sore throat, cough, decreased energy, and sometimes can include nausea and vomiting.

If your child has been diagnosed with an infection such as strep throat, wait 24 hours from the first dose of antibiotics before sending him/her to school.
Please do not send your child back to school for 24 hours following the last episode of diarrhea or vomiting. Also if they have a fever, do not send them back until they are free of fever for 24 hours without fever-reducing medication.
If your child is sent home from school ill, they cannot return the following school day.
If your child has been diagnosed with COVID please contact your building nurse; they will help determine when your child can return to school. We will not be quarantining by classroom this year due to exposure from a positive case. If we have a student who tests positive in an ELC or Elementary classroom, parents of other students in that classroom will be notified that there was a positive case in the classroom. We can not notify by classroom in the Middle and High School as students change rooms and classmates frequently throughout the day, however, parents can view case counts in the Middle School, High School, and District on our WLCSD COVID Dashboard, posted on our website. We will closely monitor each classroom for illness and work with our partners in public health as needed.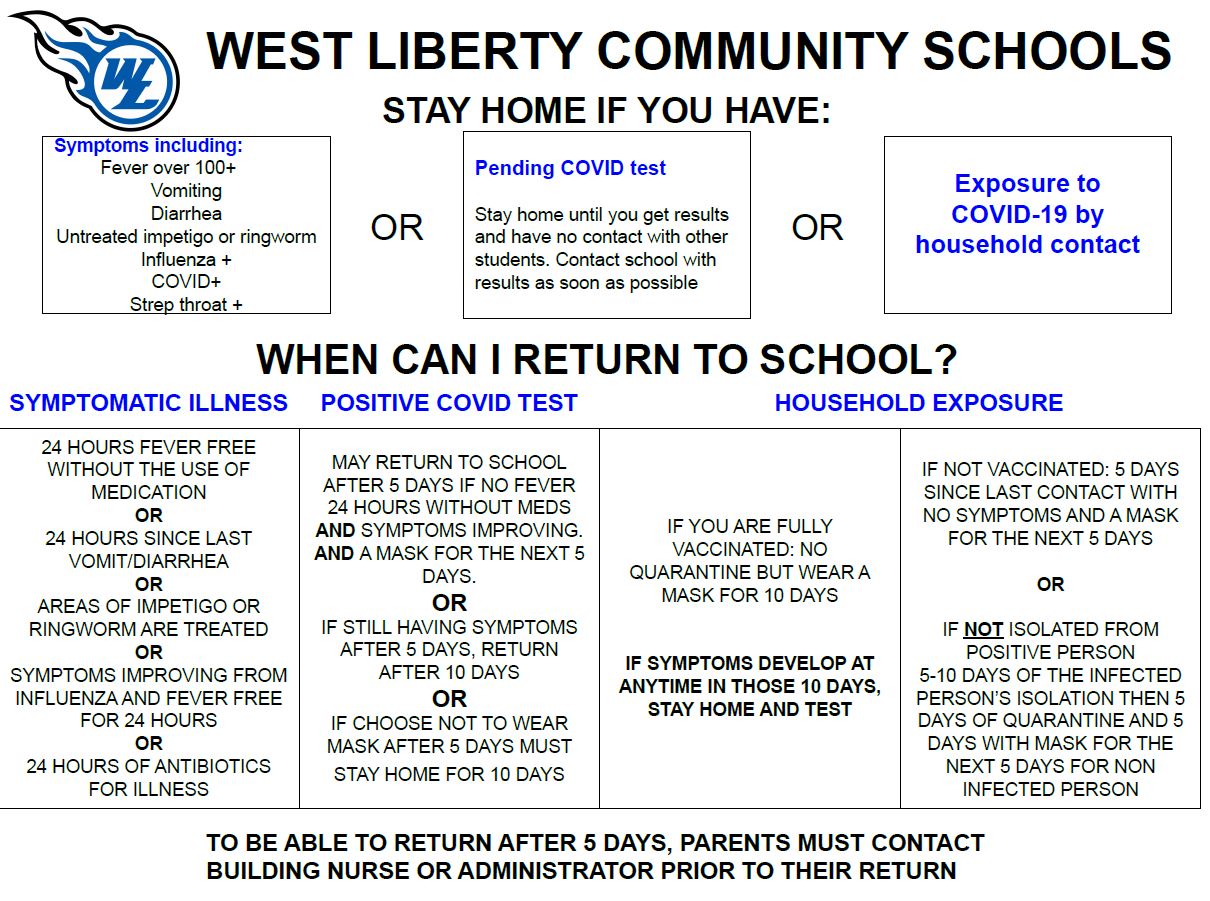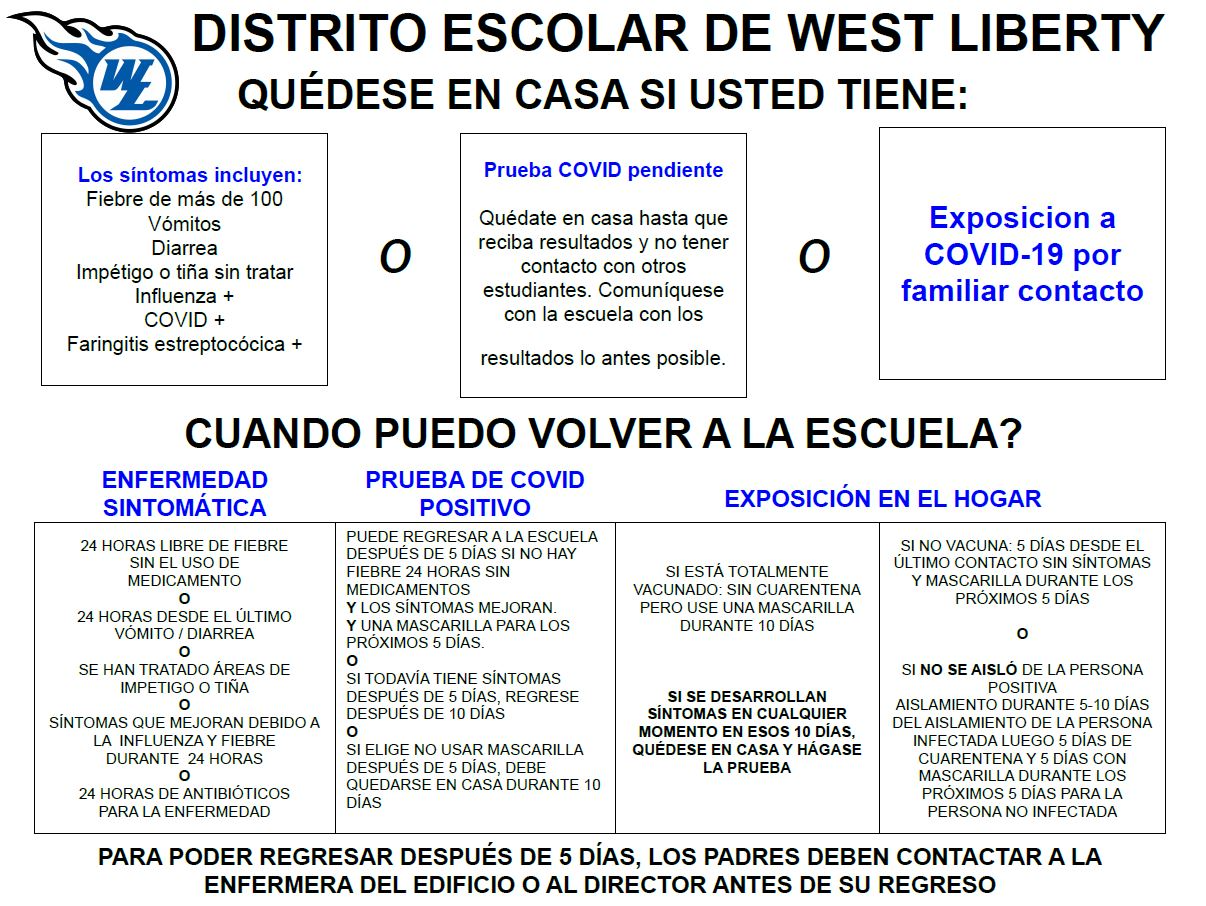 If your child has asthma or a food allergy, please have the doctor fill out an action plan and return to the building nurse as soon as possible. If you need a form, please let us know.
If you have any other questions, please contact your school nurse.
Thank you!
District School Nurses
Kayla Morrison RN, BSN kmorrison@wl.k12.ia.us ELC/ELM
Katie Hochstetler RN, BSN khochstetler@wl.k12.ia.us MS
Angela Swick, RN aswick@wl.k12.ia.us HS
Guidelines for Vaccinated Students and Staff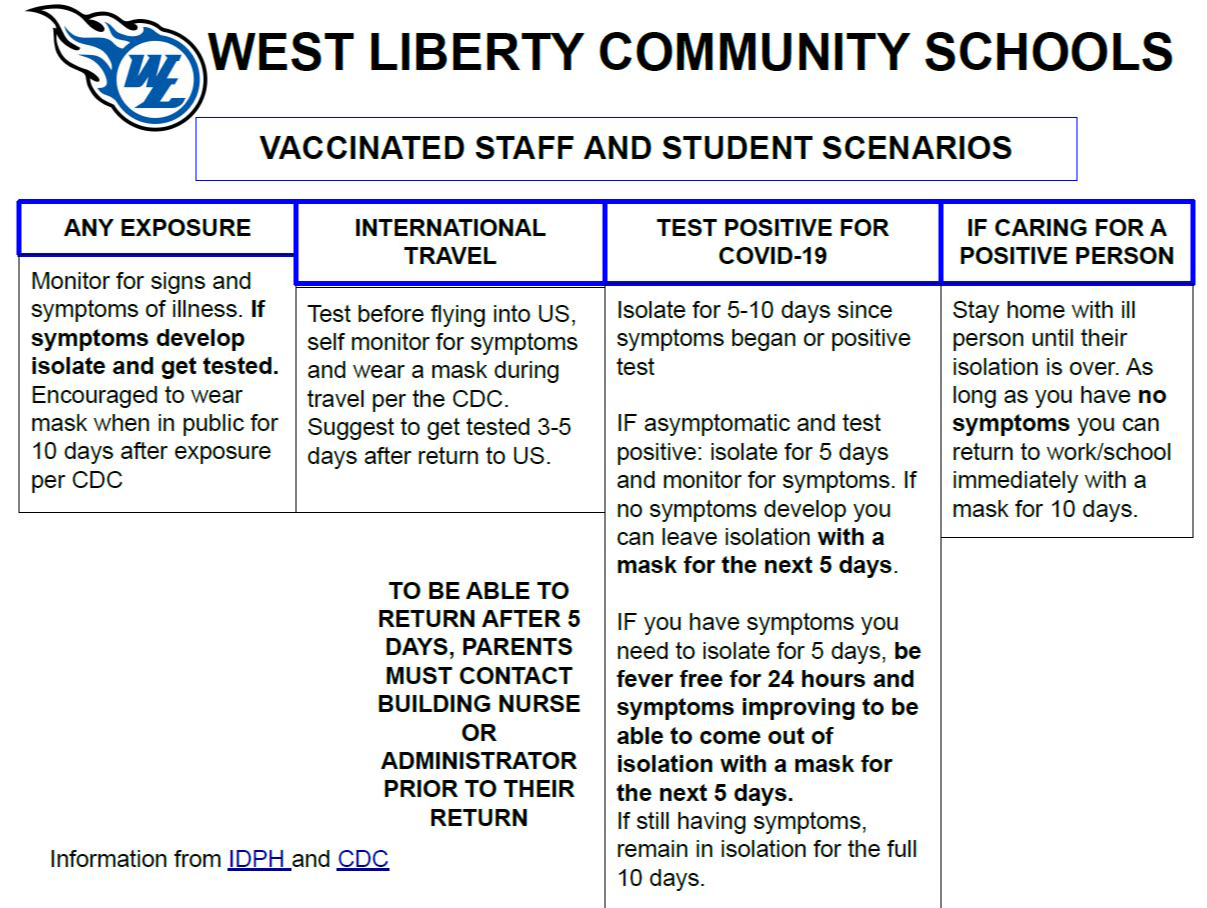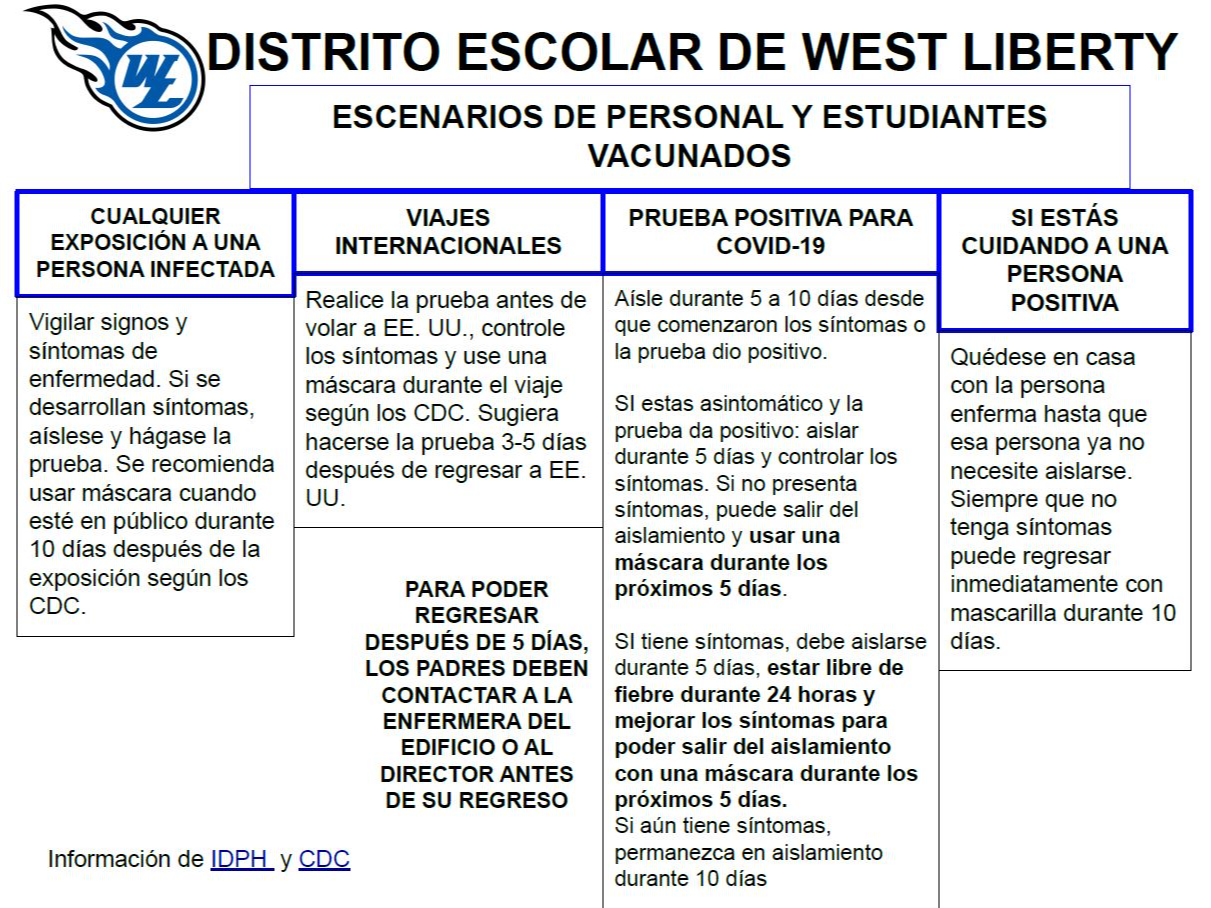 Guidelines for Unvaccinated Students and Staff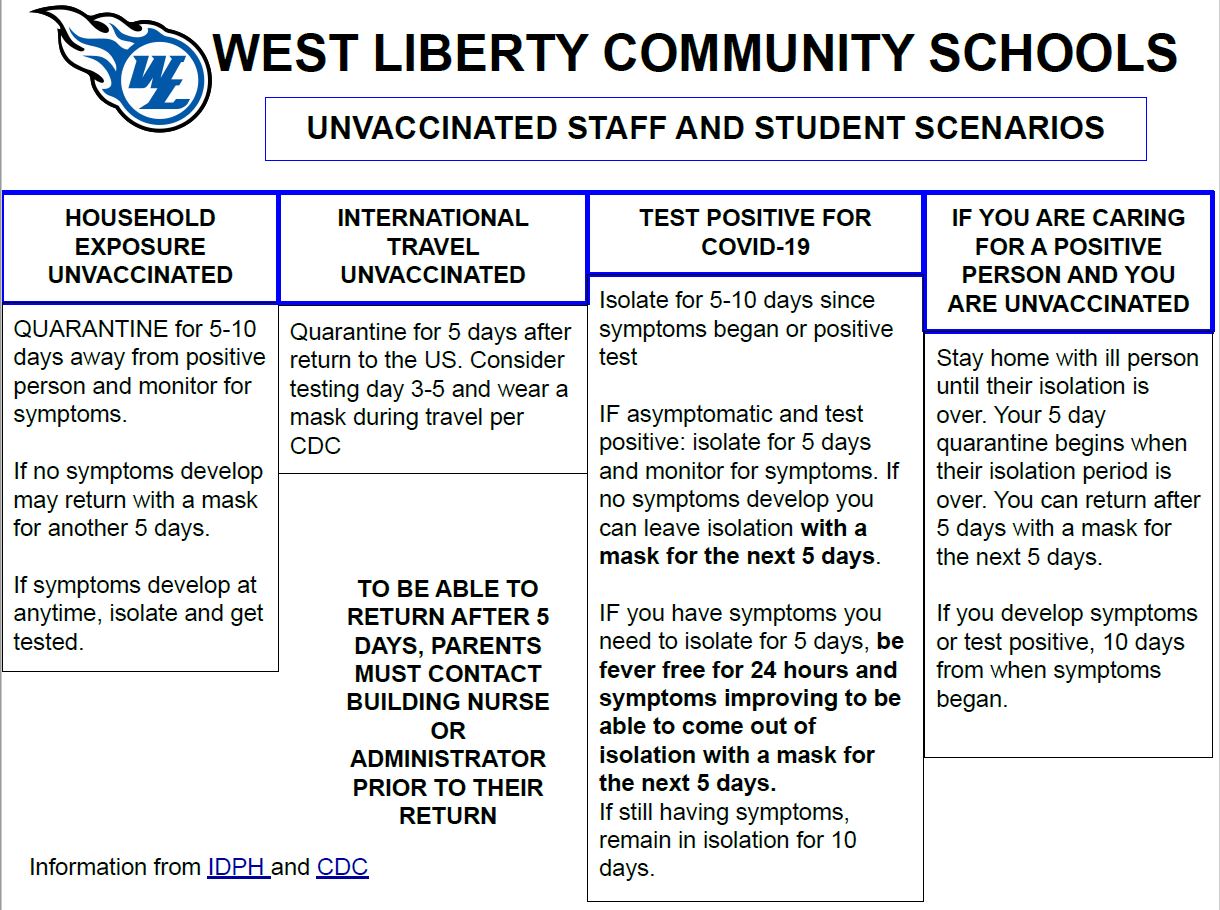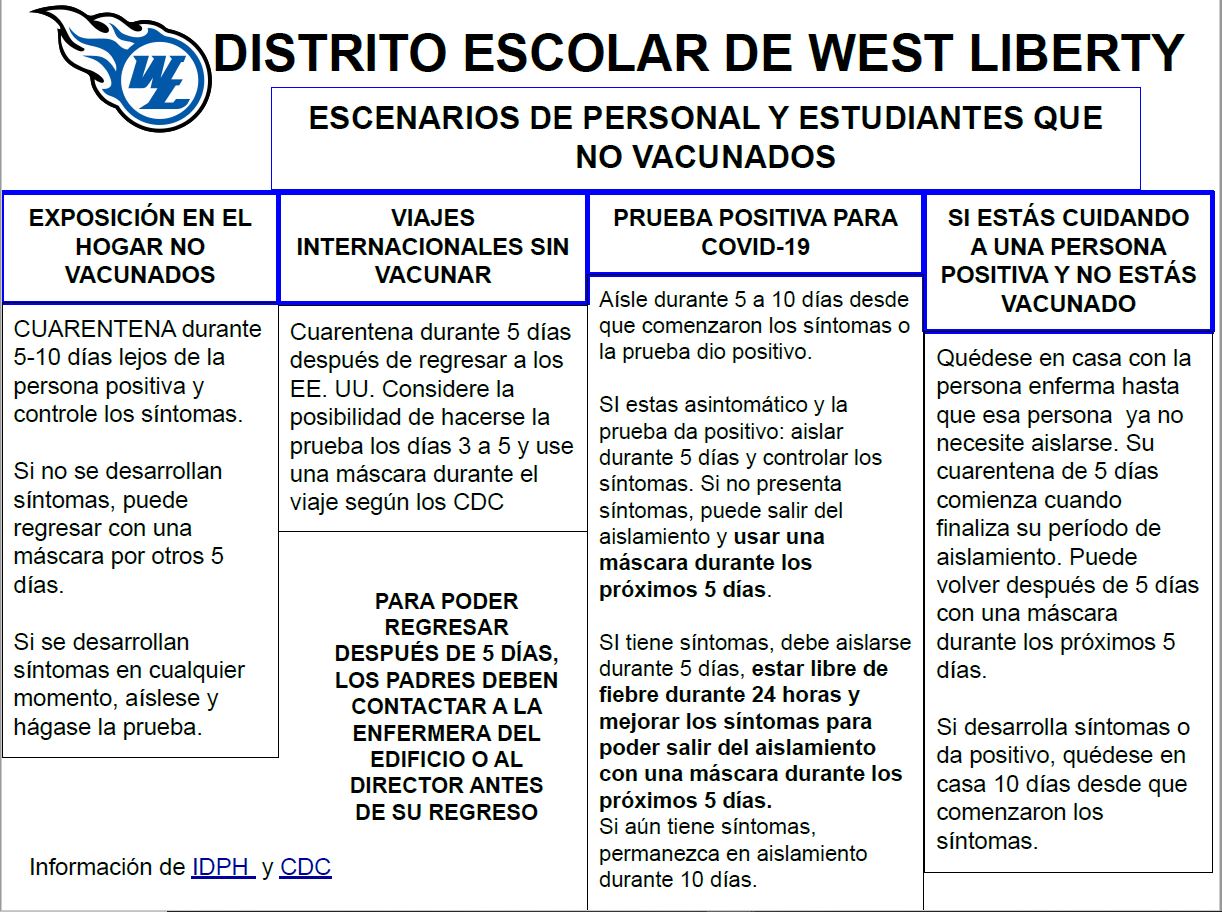 Cleaning and Sanitization
The West Liberty Community School District will continue with increased cleaning and sanitization measures to combat the spread of disease. All schools will be stocked with cleaning supplies to wipe down desks and spray and sanitize classrooms, buildings and school buses. Masks will be readily available in each building and on all buses.
Buses and other school vehicles will routinely be sanitized and cleaned. Masks are strongly encouraged and will be available for students. Routes will run similarly to last school year.
Food service will operate as normal, while maintaining increased sanitation measures. Based on the United States Department of Agriculture, students will be allowed to eat for free through the 2021-2022 school year.
Extra/Co-Curricular Activities
The West liberty CSD will follow the guidelines provided by the state governing agencies including the IHSAA, IGHSAU, IHSSA and IHSMA.