Don't forget to check out the Scholastic Book Fair at the ELC during parent teacher conferences! Wednesday, October 20th from 4:00 - 8:00 pm Thursday, October 21st from 8:00 am - 8:00 pm!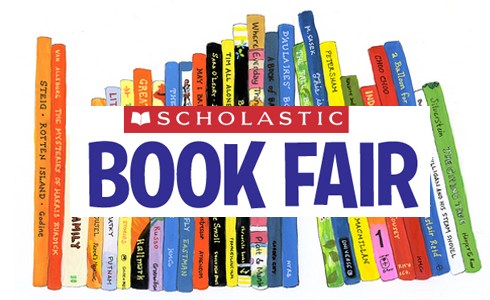 Congratulations to our Comet Marching Band for earning their 5th consecutive Division 1 Superior Rating at IHSMA State Marching Band Festival on Saturday! Way to go Comets!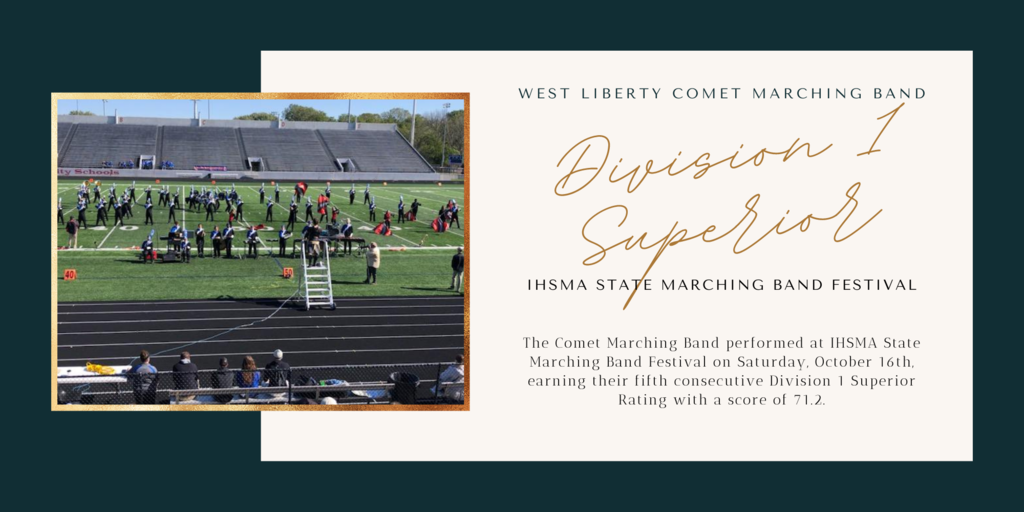 COMET TOUCHDOWN! Collins connects with Ty Jones for a 15 yard touchdown pass. Comets lead 42-14 with 2:20 left in the ballgame #GoComets
RAIDER TOUCHDOWN! Humpal's pass is complete to Dietiker in the back of the end zone for a touchdown. Two-point conversion is no good. Comets still lead 35-14 with 4:12 to go in the contest. #GoComets
COMET TOUCHDOWN! Galvan breaks a tackle from almost every Raider defender and runs it in for a 65 yard touchdown. Comets lead 35-8 after Martinez's extra point. #GoComets
Galvan with another TD run for the Comets, this one from one yard out. Comets lead 28-8, with 7:39 left in the 3rd quarter. #GoComets
HALFTIME SCORE: Comets 21, Raiders 8
COMET TOUCHDOWN! Galvan with the five yard touchdown, and Martinez with the extra point. Comets lead 21-8 with 1:19 left in the first half. #GoComets
COMET TOUCHDOWN! Drake Collins with the QB keep. Martinez hits the PAT, and the Comets lead 14-8 #GoComets
End of Q1: West Liberty 7, Anamosa 8
Raiders get the ball and drive the field. Humpel ends the drive with a QB keeper for the touchdown. Sam Wilt reels in a nice one handed catch for the 2-PT conversion. Raiders lead 8-7 with 5:25 left in the first.
Collins finds Zeman again, this time for 30 yards and no penalties. Martinez hits the PAT and the Comets take. 7-0 lead with 7:24 left in the first quarter
We're underway from Memorial Field as the Comets take on the Raiders from Anamosa for a spot in the playoffs. A holding call on the Comets brings back what would have been a 54 yard touchdown pass. #GoComets


Today is the last day to order your GSA shirt! All orders are due to Kelly Butcher,
kbutcher@wl.k12.ia.us
, at the high school by 3:00 PM!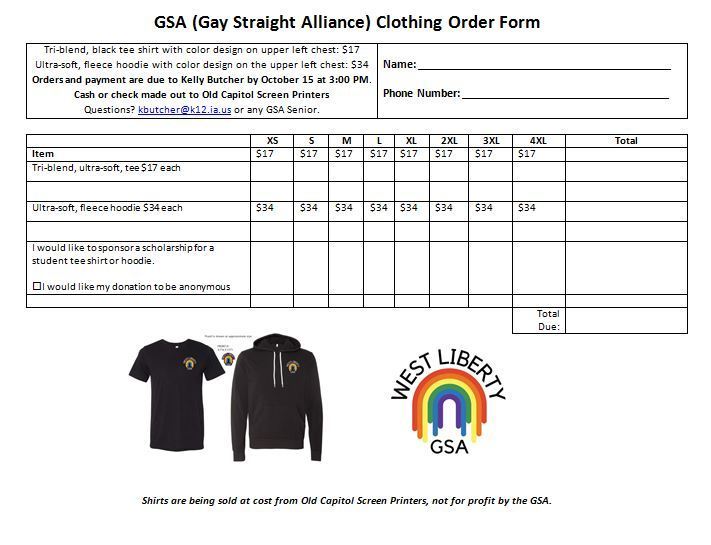 Our friends at the University of Iowa would like to invite children in grades 3-12 to participate in the Hawkeye Haiku Writing Contest! Please see the flyer below for more information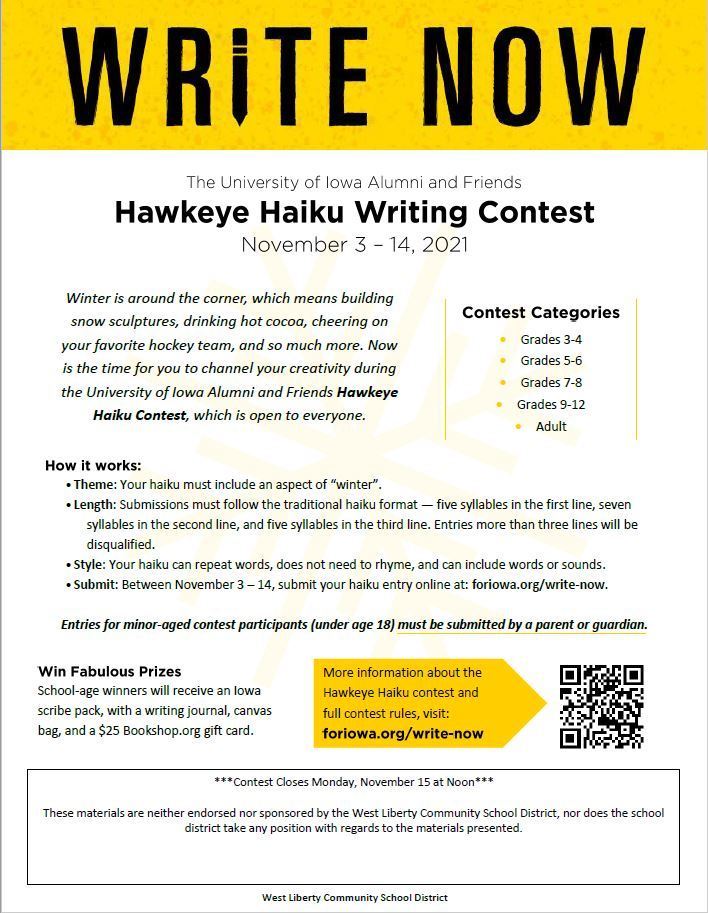 Attention Parents: West Liberty Wrestling Club will be holding registration for children in grades Pre-K - 8 on Tuesday, November 2nd from 5:30 - 6:00 in the High School Commons. Please see the registration forms below for more information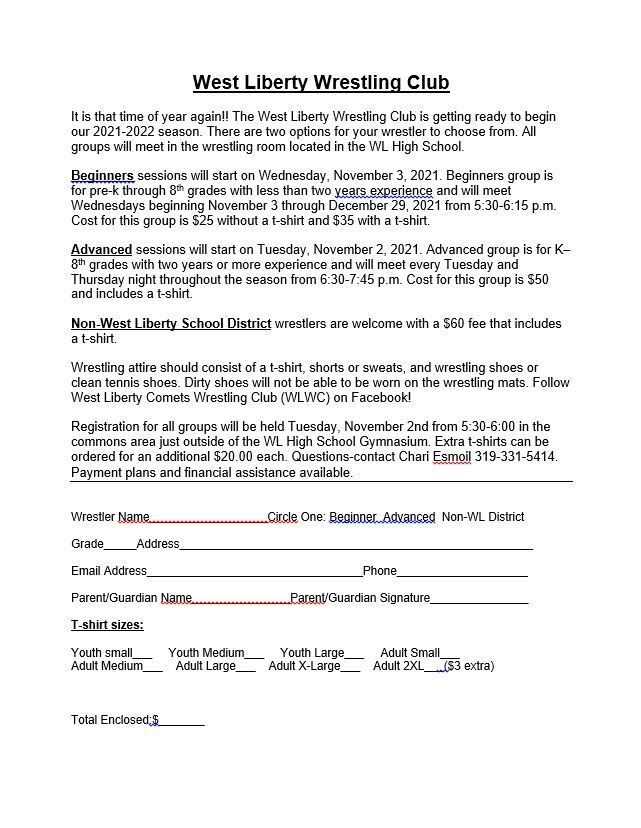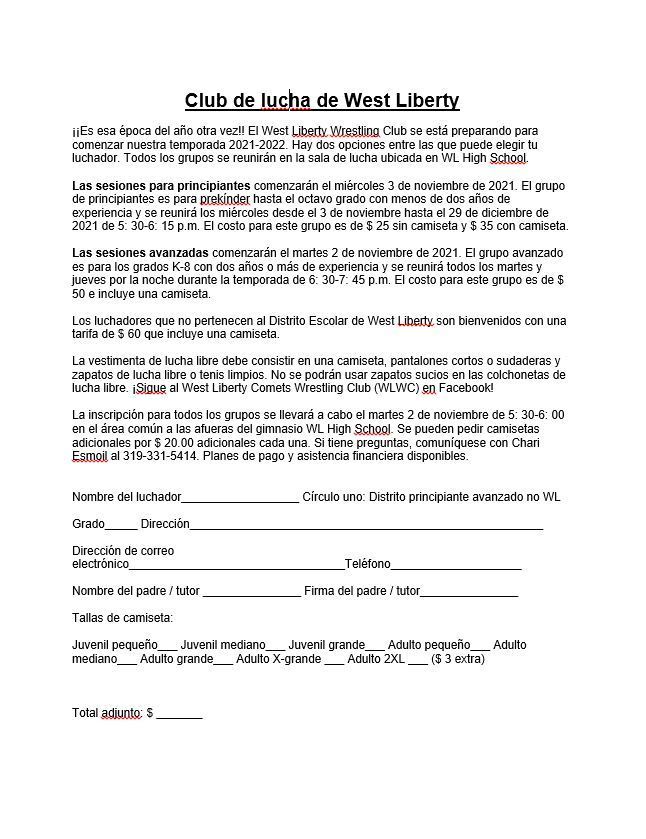 Mark your calendars! The High School Fall Band and Choir Concert will be on Tuesday, October 19th at 7:00 pm in the High School! 💙🎶💙🎶