Comets dominate yet again, and take the second set 21-13. Comets go 3-0 on the night, and will advance to the championship bracket on Thursday night in Wilton. #GoComets
Durant wins the second set over Northeast 21-17, to finish their night 1-2. Northeast will end the night 0-3. Both teams will play in the consolation bracket on Thursday night. West Liberty ahead of the Knights 16-4 in the second set. #GoComets
In the final round of the night, the Comets beat North Cedar 21-9, while Durant takes the first set over Northeast. #GoComets
West Liberty takes on North Cedar to end the round-robin, and Durant faces Northeast. Top two teams from this pool play in the Championship bracket in Wilton, other two teams play in the Consolation bracket. #GoComets
Comets take the second set 21-11 to win the match against Northeast and go to 2-0 on the night. North Cedar wins their second set as well to win the match over Durant. Knights won the second set 21-16, and are 2-0 on the night as well. #GoComets
Second round of the round-robin, West Liberty beats Northeast 21-10 in the first set North Cedar beats Durant 21-12 #GoComets
North Cedar wins the second set over Northeast to win the match. After the first round, both the Comets and North Cedar are 1-0. #GoComets
Comets take the second 21-6. On the other court, Northeast leads North Cedar 14-13. Comets take on Northeast next. #GoComets
Another timeout from Durant. Comets lead the second set 16-4. #GoComets


One last change for tonight's 7th grade football game at Camanche. Game time is now 5:15 PM. We apologize for all of the changes, but we wanted to get them one last game so they were able to play a full schedule this season. GO COMETS!

This afternoons 7th grade football game @ Camanche has been postponed due to weather. It will be played tomorrow afternoon @ Camanche, starting at 4:15 PM.

Last chance to order your GSA shirt is this week! All orders are due to Kelly Butcher,
kbutcher@wl.k12.ia.us
, at the high school by Friday at 3:00 PM!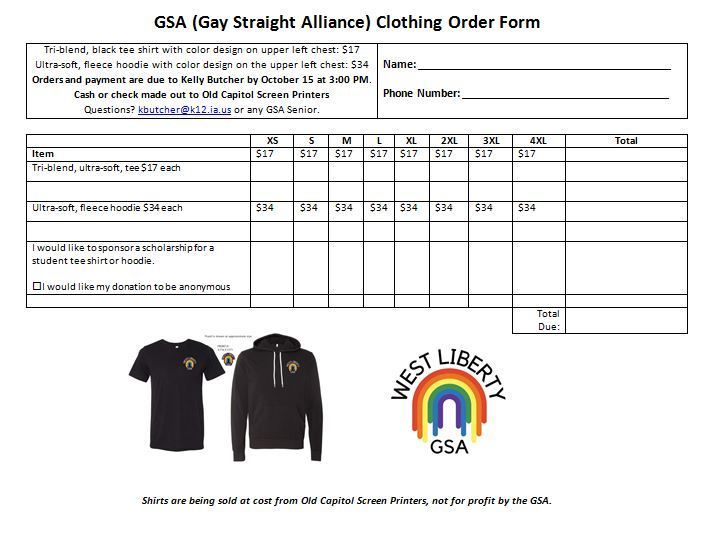 SAVE THE DATES! Class 3A regional volleyball begins in just over a week. Please plan accordingly - West Liberty will host the first two rounds. Regional final will be played at a yet to be determined neutral site.

It is that time of year! FFA Fruit, Meat, and Cheese sales have begun! High School got their packets today and Middle School will get there's tomorrow. Contact an FFA member if interested. They are due November 5th! All proceeds go toward member incentives, leadership conferences, and service projects throughout the year! If you do not know a member? Click on this link below to order online. If you order online follow the instructions and send money to school address! Thank you for supporting West Liberty FFA!!!!
https://fs7.formsite.com/rltUMm/ucsnut0oma/index.html

***IMPORTANT JH FOOTBALL ANNOUNCEMENT!*** - Tonight's 7th grade football game @ Monticello has been canceled. - Tonight's 8th grade football game @ Monticello will now kick-off at 4:15 PM. Students will be dismissed at 2:30, bus will leave at 2:45.

Here is an update for the remaining, regular season, high school football schedule.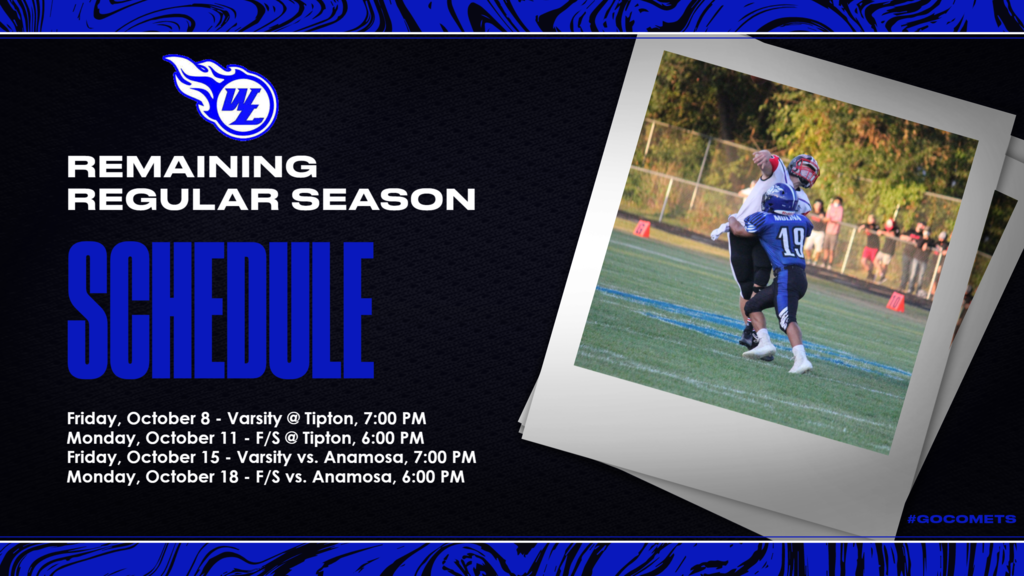 West Liberty Police Department will be providing FREE COSTUMES for children October 25-29 from 5:00 - 6:30 pm at the Police Department 409 N. Calhoun Street! First come, first serve.

The Hidden in Plain Sight Trailer will be at the West Liberty High School tonight starting at 4:00 pm during parent teacher conferences. Adults 18 years and older will be able to tour the trailer during this time. See the flyer below for more info.

Attn: Ladies! Our friends at the U of I Mobile Clinic are offering a free Gynecology Clinic on Saturday, October 23rd from 9:00 am - 12:00 pm at 2240 Towncrest Dr, Iowa City, IA. Apply for an appointment via this link:
http://tinyurl.com/mcgynfall21